Services


Solutions

Solutions


Real Estate
concept
We are a modern architectural organization with an experienced & professional team of architects
G.B. & Partners S.r.l. is a modern real estate services company with an interdisciplinary and up-to-date team, active in designing and building sustainable urban buildings and infrastructures to improve the territory and contribute to the well-being of the people who live there.
Created in 2008 from the expansion and strengthening of a technical studio founded in 1990 and from the daily dedication to projects and customers of Gianpiero Bianchi, who is still today, the beating heart of the company.
The passion of the team means it is dynamic and geared up to react to difficulties, qualified to respond to each specialized field and ready to get involved to continuously improve.
G.B. & Partners S.r.l. carries out projects throughout the whole of Italy in residential, commercial, management, logistics and tertiary sectors. The experience gained over years of activity in the real estate sector has made it possible to acquire both the technical know-how and understand the needs of the market in a transversal way.
The continuous propensity for growth, a constant focus over the years, has allowed G.B. & Partners S.r.l. to also become a promoter of real estate initiatives aimed at the development and redevelopment of abandoned areas and buildings.
"An architect's idea is never just formal. It must be at the same time social, scientific, and poetic."

(Renzo Piano, architect)
With several decades of experience, G.B. & Partners S.r.l specializes in the construction, maintenance and renovation of buildings intended for office, industrial, commercial, and residential use.
Qualified professionals and technicians collaborate with specialized experts able to follow each project in all its phases: from feasibility studies to analyses for integration within the territory, from the bureaucratic aspects to the final and executive planning, up to the realization of the project.
Client satisfaction is always the top priority.
Collaboration, involvement in all phases of the project, management and resolution of unforeseen events and maximum transparency are the basis of the relationship with the client until the project is fully completed.
G.B. & Partners S.r.l.  offers its clients global solutions: research and qualification of areas, technical analyses, design and assistance in the construction of buildings, contractually committing themselves to respecting the agreed estimate, defined construction times and guaranteed work quality.
In this way we obtain solutions with high added value, that are designed and built respecting energy efficiency and cost optimization, to guarantee results in compliance with quality and safety.
We provide precise projects for interventions and construction of commercial buildings, shops, centers and business parks.
G.B. & Partners S.r.l.  carries out detailed projects for the construction of industrial buildings and production and logistics facilities.
One of our areas of expertise is in the design of large structures intended for industrial and logistical activities, working meticulously, and setting the intended use as an objective as the buildings are instrumental and functional to the type of production activities to be carried out inside the premises. Maximum attention is also paid to sustainability.
A specific section of the G.B.& Partners S.r.l team is dedicated to supporting companies and investment funds for technical analysis and urban and environmental due-diligence, guaranteeing the necessary support to the client in choosing the investment.
G.B. & Partners S.r.l has a team of trusted collaborators who are available to carry out inspections in order to provide information and useful suggestions for the realization of unique and tailor-made projects. Our vast experience allows us to design and assist in the construction, renovation, and redevelopment of buildings, offering an all-inclusive and certified service.
Renovation work is often necessary, not only to change the aesthetics and style of a living environment, but also to implement the safety and stability requirements of a property.
Legal assistance, specifications, condominium regulations and diversified interventions are available for independent villas, apartment blocks and condominiums.
G.B. & Partners S.r.l.  also handles planning for urban and landscape regeneration.
The purpose is to create functional, aesthetically pleasing, and sustainable urban spaces and to preserve and safeguard the elements that characterize the landscape from a natural, environmental, and cultural point of view, making them pleasantly habitable.
Urban design goals can cover a range of community needs, often including creating vibrant and accessible public spaces, promoting sustainable transportation, preserving cultural and architectural heritage, and promoting the health and well-being of residents. 
DYNAMISM
At G.B. & Partners S.r.l., the ability to adapt and respond quickly to changes and challenges in the market, the surrounding environment and the industry, are invaluable. For us, dynamism means being agile and flexible, having a culture that promotes innovation, creativity, and collaboration among employees.
A correct level of proactivity to face challenges and exploit opportunities is necessary to pursue our focus: growth and dedication to our projects and our customers.
RESILIENCE
At G.B. & Partners S.r.l.  we think the ability to persist in pursuing challenging objectives is fundamental, effectively facing the difficulties and any other adverse events that may be encountered along the way.
And it is precisely for this reason that resilience is one of our values. All our staff are strongly motivated to achieve their goals, we tend to see changes or problems as challenges and opportunities rather than threats.
EFFICIENCY
Every day, G.B. & Partners S.r.l.  chooses to devote care and attention to the needs of people and the surrounding environment.
A team of qualified professionals follows all the stages of implementation of each individual project to make it unique and ensure it achieves the desired results.
Passion and a strong sense of duty are what allow G.B. & Partners S.r.l. to pursue efficiency.
"Architecture is truly well-being. I think people want to feel good in a space…

On the one hand it is a shelter, on the other it is also a pleasure."

(Zaha Hadid, architect)
CORPORATE
Architectural and urban design
The company is mainly dedicated to real estate services, such as architectural, urban and executive design, construction management, topographic surveys, land registry practices, drafting of millesimal tables, condominium regulations, consultancy for sustainable energy redevelopment, interior design, rendering and BIM processing.
It is also able to deal with all the administrative, urban planning and authorization procedures relating to properties for residential, productive, commercial, office and public use.
The growing need to reduce environmental impact and energy costs has led G.B. & Partners S.r.l to engage more and more in the research and study of new construction technologies.
In this sense, G.B. & Partners S.r.l is always attentive to the future, dedicating time and resources to green projects and the development of energy from sustainable and renewable sources.
The proposal of cutting-edge technological solutions regarding construction methods and global assistance throughout the design and construction phase, allows our clients to carry out high quality and highly functional real estate transactions.
The experience gained over years of activity has made it possible to understand the technical problems and market needs in a transversal way which, together with the inputs gathered from the numerous relationships developed with end
users, has allowed G.B. & Partners S.r.l to carry out promotional activities related to real estate initiatives aimed at developing the use or recovery of areas and/or disused buildings.
It is also possible to obtain advice from the G.B. & Partners S.r.l team regarding the design and construction supervision of hydraulic, mechanical, air conditioning, sewage, electrical and special systems, acoustic impact assessment, structural work design, geological and geotechnical investigations, surveys, and on-site tests while work is being carried out.
"Our task is not to give the customer what he wants,

but what he has never dreamed of."
(Denys Ladsun, architect)
G.B. & Partners S.r.l. is a young, dynamic, and multicultural group that cares about its customers; for this reason, it tries to satisfy and exceed their expectations with innovative, cutting-edge solutions and by managing real estate transactions with the highest quality standards. Skills and experience, study and analysis of the territory, commitment to research and respect for the environment. The G.B. & Partners S.r.l. team has a common mission: to work hard every day to build increasingly solid relationships with its customers; to find increasingly innovative and sustainable solutions while keeping up with the continuous changes in the surrounding environment; to remain a compact, up-to-date, and dynamic interdisciplinary working group.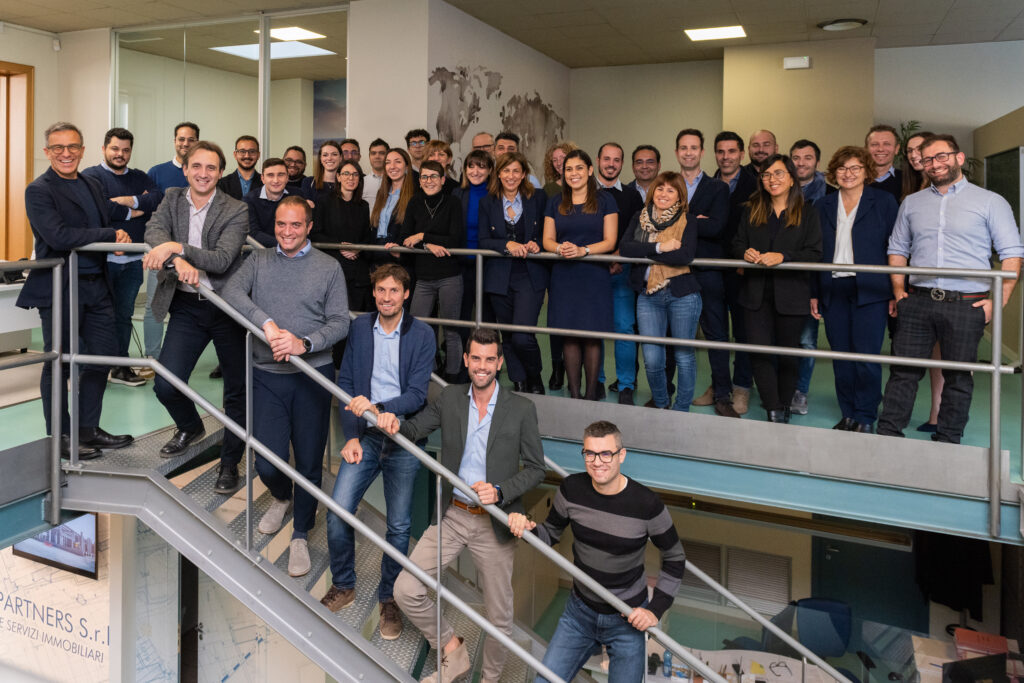 G.B. & Partners S.r.l. is made up of a team of 40 professionals who work in synergy with other external specialists with consolidated experience to ensure a complete 360° service. G.B. & Partners S.r.l. bases its activity on cooperation, interaction and sharing of objectives with clients, designers, and specialists. G.B. & Partners S.r.l. is always looking for motivated, proactive, and enthusiastic people who want to be part of the team.